Contact Us
Comfort and convenience are the hallmarks of Colorado Foot Institute's office operations. To ensure your convenience, below is the information you need about our office, and location. We look forward to being of service and getting you back on your feet!
7180 E Orchard Rd Ste 100, Centennial , CO 80111-1725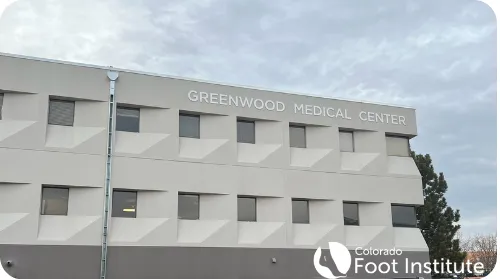 Upon entering our office driveway, please drive around the building to access the Front Door. Located at the SouthWest corner of Quebec and Orchard Rd. (across the street from Greenwood Athletic Club and behind the Fire Station)
Ask A Question!
We encourage you to contact us whenever you have an interest or concern about podiatry such as diabetic foot care, heel pain, or just unknown pain with walking or standing.
For new patients, if you'd like an appointment, to save time, please Register Online, and schedule an appointment through our Patient Portal. No more waiting on hold! It's quick and easy. For existing patients, click here to make/change appointments, pay your bill, and access your medical records. Of course, if you have any questions, or are having trouble with our online version, or just prefer to speak with someone, please call (303) 333-3383 or fill out the form below, if you have any questions. You can also text us at that number! Thank you for your help and we look forward to hearing from you.
Happy Feet are only steps away!